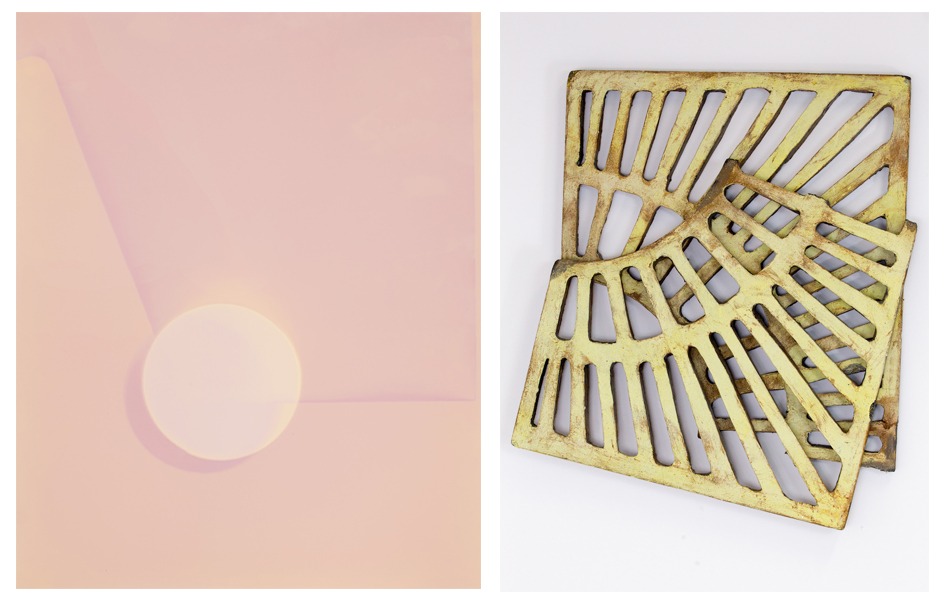 Featuring: Rachelle Bussieres and Courtney Sennish
Show runs: August 3 – September 22
Bussieres Artist Statement
Approaching the darkroom as a sculptor – cutting, layering and manipulating photographic materials – l create forms that balance between estrangement and familiarity. I have developed a "sky pallet" by using the lumen print process through layers of natural and artificial light to create hues and gradations of color as photograms on gelatin silver paper. The resulting works resemble landscape features and geometry embodying the light of specific geographical sites yet dually retain a distant and dreamlike quality.
Bussieres Artist Biography
Rachelle Bussières (b.1986) received her MFA from the San Francisco Art Institute. She is the recipient of the 2015 Graduate Fellowship Award from the Headlands Center for the Arts, California; and the Award for Excellence from the Canada Millennium Scholarship Foundation in 2008 and 2009. In 2015, she received an Honorable Mention for the Snider Prize from the Museum of Contemporary Photography in Chicago. In 2016, she had a solo exhibition at Robert Koch Gallery that was reviewed by Art Forum as a critics' pick. Her work has been included in many group shows in San Francisco, Paris, New York, London, Bodo and Vienna. In 2017, she was an artist-in-residence at the Banff Centre and at the Vermont Studio Center where she was awarded grants for both residencies. She is currently a Charter Resident at Minnesota Street Project in San Francisco.
Sennish Artist Statement
I amble through the city of San Francisco in search of illuminations: silent monuments bearing subtleties that transform my being in place. My process is an accumulation of labor, historical research, and intuition resulting in a phenomenological and physical conversion. Contemporary generations have grown accustomed to a lifestyle devoid of wilderness, accepting a contained form of nature. How does living in such a heavily fabricated and dictated environment change our biology? I question how the physical structures guide my everyday practice.
My artwork examines the urban landscape through isolating specific moments and features found through my pilgrimage. I grant a spatial story to these accumulations through research into the history of the landscape's geography as well as intuitive experiential qualities. These works collage the flat and vast worlds that exist simultaneously within and before us. The diverse mediums represent different processes of perceiving, experiencing and relating to the world around us.