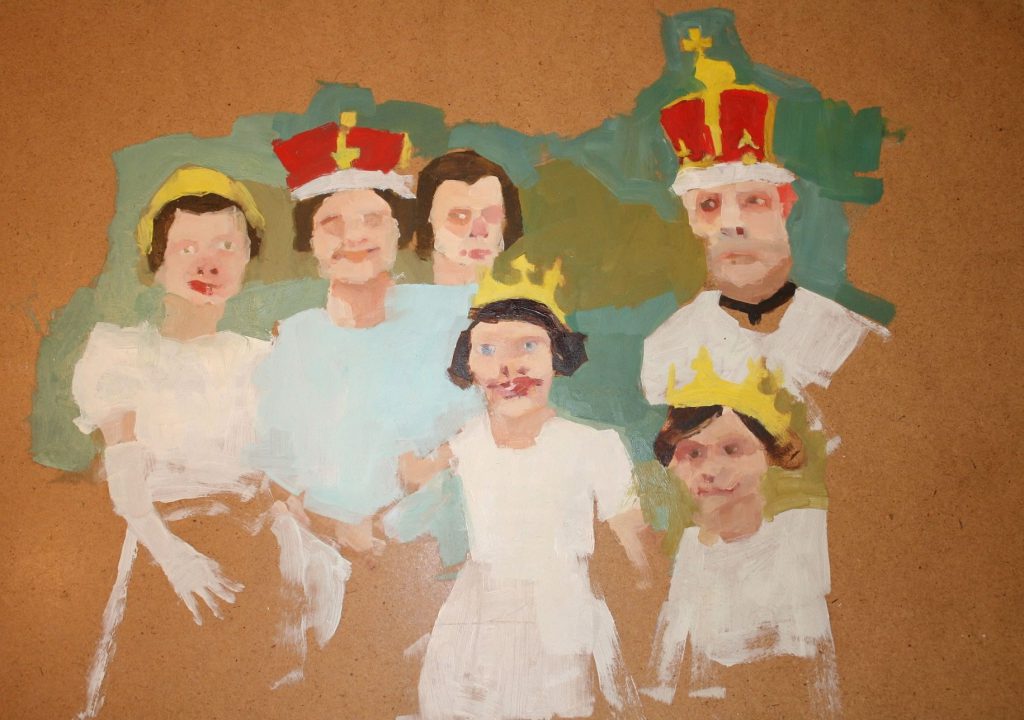 Featuring Jennie Ottinger
Showing August 7th – September 18th 2009
Opening Reception: Friday, August 7th 5-8pm
Selected Recent Press for Jennie Ottinger:
SF Chronicle Review by Kenneth Baker – Link
"She has a voluminous, involving solo show at Johansson Projects in Oakland…put a few of Ottinger's pieces together, put "Man Chat" (2009) next to almost any of them, say, and specious narratives begin stirring in the mind..The peculiar key of Ottinger's art – intent yet relaxed, a sort of soft-focus tunnel vision – lets it evoke the inner zone where memories of real life, of mediated images, of dreams and of images elicited by stories mingle and get confused…"
Art in America Magazine review by Matt Sussman
Artslant by Andy Ritchie – Link
"…These are genre subjects, vehicles for plot, rather than studied portraits. Interspersed among the archetypes is the occasional prop for intrigueÑa gun, luggage tag, or horse leg diagram deepens the plot. Paintings and drawings are hung in clusters, injecting nonlinear, skewed narratives that rebound the web effect found within the individual paintingsÉWould an example help clarify? On one part of the north wall I see a painting of a commercial building, looking particularly Californian and with its loading dock face-out; this leads the eye into the scene from the left. An innocuous painting of a doctor sits to its right. Below that is a gun drawing, an outline really, and to its right, a nurse. The crescendo comes last, as ambiguous adults and children stand soggily in funereal dress. A murder mystery has unfolded outside of the frames. I think….Superman costume…When cannily placed near a government-issue personal identification sheet (hand drawn with verisimilitude) and a painting of a school teacher in situÑthe modern-day Clark KentÑthe associations brim with hilarity. I stumbled around the gallery aimlessly after a while, rereading and revising each story…If you do the same, beware of the show's terminus underfoot, the remaining bounty of work amassed and whirlpooling on the chipboard floors. Stacked and leaned in a single pile, there are several instances of pieces same or similar to the "active" wall-hung ones, including some drawing studies. I love that Ottinger has an arsenal of each archetype, ready to repurpose and deploy at will. Red curtains are tacky in a bordello and classy in a Broadway theater…"
Press Release
Johansson Projects presents a solo exploration by Jennie Ottinger, a delicate and haunting display of familiar suspects stripped of their familiarity. From her ballerina lineups to her team of surgeons, Ottinger's characters contain all the parts in place, yet a lurking trace of disorientation lingers in the way of recognition or comfort. A crafted impossibility echoes throughout Ottinger's presentation of her pieces in a new kind of narrative network: a dissonant collective instead of a rigid unfurling of cause-and-effect. Ottinger confronts viewers with storybook pages tossed into the wind, forming links between strangers in strange places that transcend conventional story logic. Her cast of fictional characters is conjured from a medley of nonfictional materials — newspapers, textbooks, and photo archives — and then freed from any storyline to frolic in a storyweb. Every moment of Ottinger's dripping portraits summons a bitter longing to find a home in the imaginary ideals of the happily ever after. While stories often take great liberties to fill in the blanks, Ottinger's mythical portraits employ the ruse of familiarity as a vehicle and a trap, exposing the blank spaces between body parts and storybook pages.